Product Category of Tadbir Alborz CO.
The ultizing of flexible containers remarkably developed during the recent twenty years especially in industrial countries. The main reasons such increased demand for are the following points: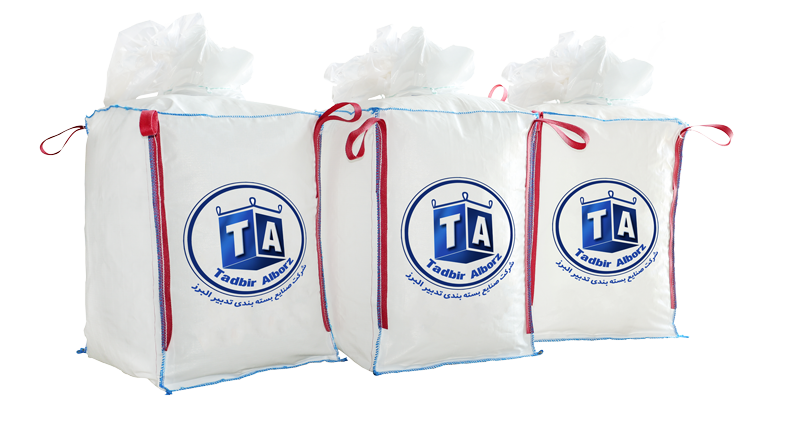 Security and easiness in loading and discharge.
Protection of materials againstmoisture and other factors.
No losses of materials during loading and disharge.
Easy transportation.
Easy-counting and controlling of materials.
Space - saving in store occupation.
Being recyclable
The design of bags can be planned on customers need. but it should be mentioned that as a whole the bags are stored in two types of: value type jumbo.
A) vavle type jumbo bag
This bag has an input opening with a cap to cover it and is used for carrying powered materials which should be protected against sunlight humidity and contaminations.
B) Pallet type jumbo bag
This bag is suitable for carrying lump-shaped materials collected in small bags.
Various type of bags from loading and discharging point of view
TOP OPEN
TOP DUFFLE
TOP SPOUT
FLAT BUTTON
SPOUT BOTTON
FULL SPOUT BOTTON
A) F.I.B.C. 500 KGR
SAFE WORKING LOAD: 500 KGR
SAFETY FACTOR: 5:1
U.V. STABILIZED
WEIGHT OF FABRIC PER M2: 110.5 KGR
INNER LINE: WEIGHT CUTOFF- 452 GR
B) F.I.B.C. 1000 KGR
SAFE WORKING LOAD: 1000 KGR
SAFETY FACTOR: 5:1
U.V. STABILIZED
WEIGHT OF FABRIC PER M2: 190 KGR
INNER LINE: WEIGHT CUTOFF- 970 GR
A) F.I.B.C. 1500 KGR
SAFE WORKING LOAD: 1500 KGR
SAFETY FACTOR: 5:1
U.V. STABILIZED
WEIGHT OF FABRIC PER M2: 220 KGR
INNER LINE: WEIGHT CUTOFF- 1157 GR